Star Wars R2-D2 Boxed Coffee Mug
R2-D2, the most famous astromech Droid can not only fight against the dark side, he can also provide a real eye opener in the morning too. Serve up a good morning brew in this Star Wars R2-D2 coffee mug and you will be fighting the evil empire in no time. The mug features the Droid's controls to the front and rear and it is dishwasher and microwave safe. Know someone who is a fan of the Star Wars franchise? Star Wars fans are the easiest people to buy presents for and novelty pieces of drinkware won't disappoint. Fully licensed Star Wars memorabilia and for home or at work. Dimensions approx 9cm in height
Star Wars Stormtrooper Travel Mug EP7
If the first thing you think of in the morning is either Star Wars related or when you'll be having your first cup of coffee then the Stormtrooper Travel Mug is for you. Kill two birds with one stone and get your geek and caffeine fix all at once. This sleek travel mug is perfect for those of us who are constantly on the go. Designed with a stylish white gloss exterior, the Star Wars Travel Mug features a Stormtrooper mask stencil on the front and First Order emblem on the reverse. The stainless steel mug fits snuggly into car cup holders with an easy to use slider as well as a soft rubber bottom which works as a grip.
BB8 Droid Sculpted Mug BB8 is the newest droid that has burst on to the silver screen and with the whole world thinking he is super adorable, we couldn't resist this mug. Throughout the Star Wars universe droids are known as loyal servants to their masters. This guy won't be going on any secret missions with you any time soon, in fact, he won't do much other than hold your tea or coffee in intergalactic style. This hand painted mug is made from ceramic so your drink will stay lovely and warm inside. The BB8 Droid Sculpted Mug is the mug you are looking for. Perfect for at home, at the office or even from the comfort of your X-Wing cockpit!
Click Here For More Star Wars Mugs Prices & Availability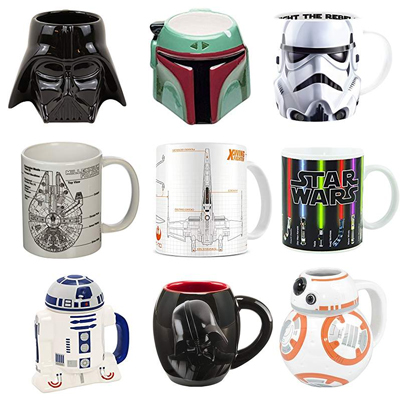 Star Wars R2D2 3D Coffee Mug
R2D2 not only defends Luke Skywalker, but now the most famous astromech Droid of all time created by George Lucas will protect your favourite drink from the watchful eyes of others. This unique 3D novelty mug features a removable lid which creates an air-tight space, keeping your hot drink hotter for longer.Please be aware that R2-D2 is not dishwasher or microwave safe – after all you don't want to destroy his moulded shape and detail. In fact, some collectors may not even use him as a mug at all; is officially licensed Lucas merchandise pedigree would make a great collectable keepsake for the real hardcore fan. Know someone who is a fan of the the Star Wars franchise? Star Wars fans are the easiest people to buy presents for and this coffee mug makes an ideal present for any occasion – birthday gift or even as a house warming present.
Star Wars I Am Your Father Darth Vader Coffee Mug
The "I Am Your Father Darth Vader" coffee mug is a superb novelty mug paying homage to the super-villain, the dreaded nemesis of Luke Skywalker! Of course, he reveals at the end of the serious that he's Luke's father! Know any Star Wars fans? They re the easiest people to buy presents for and this ceramic mug makes the perfect vessel for that morning eye-opener or much needed coffee break. Plus the paternal theme makes this the ideal birthday present for Dad too! "You don't know the power of the dark side!" Ok Darth, what you really meant to say was "white with two sugars please". Official Star Wars merchandise. Comes in a collectable gift tin.
Star Wars Kylo Ren Heat Change Mug
If you love the Star Wars franchise and have been eagerly awaiting the 7th instalment then you'll be sure to love this Kylo Ren heat changing mug from Star Wars Episode VII: Force Awakens. This fun heat changing mug features the fearsome villain Kylo Ren in 2 separate poses; a front on shot and an action pose. When a hot beverage is added to the mug Kylo Ren's lightsaber will appear in red. The words 'Kylo Ren' will also appear in the same red as his lightsaber. On this mug Kylo Ren stands in front of the First Order symbol. This mug is a standard size and has a 300ml capacity. Due to the materials used to create the heat changing effect, this mug is unsuitable for the dishwasher or microwave. So why not drink your beverage in style with this mug. This would be a great addition to the kitchen of any Star Wars fan and is a great piece of movie memorabilia.
Star Wars Captain Phasma Mug
The Force Awakens there are some new villains ready to terrify legions of fans. The icy Captain Plasma is a fearsome captain of the First Order and you can own a mug featuring this mighty enemy. This mug comes in high shine silver that perfectly reflects the Captain's cool demeanour. Overlaying the silver mug is a black decal of the Captain's helmet. The inside of the mug is a crisp white colour. This mug is a standard shape and size and holds up to 300ml of your favourite beverage. This mug is officially licensed Star Wars merchandise for episode VII: The force Awakens and comes in an attractive Star Wars gift box featuring Kylo Ren on the front. This mug is not suitable for the dishwasher or microwave. This would be a fantastic addition to any Star Wars fan's kitchen.
Star Wars BB8 3D Mug
If you love the adorable little BB-8TM droid from the new Star Wars, Episode 7: The Force Awakens, then you are going to love the BB-8 mug. When you have your morning brew it doesn't hurt to have a mug that really means business, and this little fella is definitely the mug you're looking for. The mug is moulded in a 3D print so it really looks like BB-8 and is then finished in colour. This would be a great addition to any Star Wars fan's kitchen.
Star Wars Stormtrooper Travel Mug It can get cold up in space and travelling the galaxy can leave a person pretty thirsty. With this Star Wars Stormtrooper Mug you'll never have to worry about lukewarm drinks again. This travel mug is white with a silver metal lid and is perfect to take with you on the go. The outside of the mug is white and features a Stormtrooper helmet decal in black. The back of the mug features a red and black First Order emblem so everyone can see where your loyalties really lie. This mug has a 16oz capacity and is perfect for both hot and cold drinks thanks to its insulated lining. The lid is also watertight so you won't have to worry about accidental spillages in your ship's cockpit! This travel mug is officially licensed Star Wars VII: The Force Awakens merchandise and comes with a fun Kylo Ren label. This would be a great product to have for the Star Wars fan that's always on the go.
Click Here For More Star Wars Mugs Prices & Availability