Whittard Alice in Wonderland Mugs
Alice, Rabbit, Mad Hatter, Cheshire Cat, Tea Party, Queen Of Hearts, Rabbit (with key handle) Alice (with key handle) and Mad Hatter (with key handle) designs available.
Featuring the original illustrations from Lewis Carrolls Alices Adventures in Wonderland, this quirky collection of fine bone china has been designed exclusively for Whittard and decorated at The Potteries in Stoke-on-Trent.
Click Here For Whittard Mugs Prices & Availability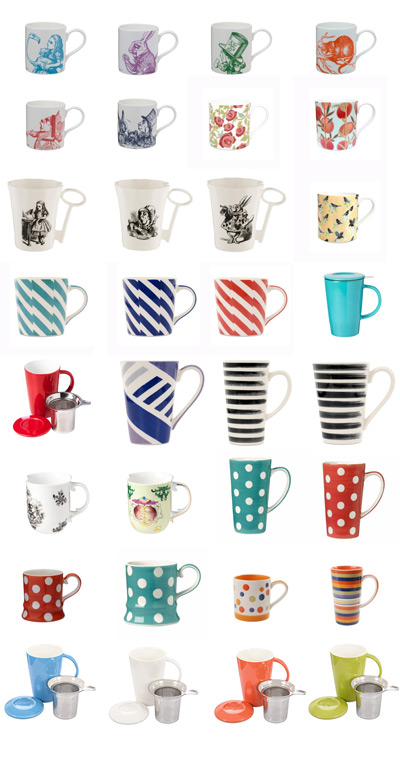 We first had the idea for the collection when attending a rather raucous tea party at the Mad Hatters. Create your very own tea party with lovely mugs, dainty-cups and saucers, a sweet little milk and sugar set and a special plate for cakes  oh and dont forget the nice big teapot. Just be sure to check for the sleeping dormouse before pouring.
All Alice In Wonderland Mugs are Dishwasher & Microwave safe, 300ml capacity.
Whittard Buckland Mugs
Buckland Spot, Stripe and Stripe Latte designs available
Are you seeing spots, or is your head in a spin? Time to treat your kitchen to some colour-pop cool, with our beautiful Buckland range of hand-painted stoneware, exclusives to Whittard.
The tantalisingly tall Stripe Latte mug, fill this stripy latte mug up to the brim and drink deep, The Stripe Mug with its spinning stripes, this lovely large mug turns our head right round or the Buckland Spot mug which we love! dotted with colourful spots for a cheerful cuppa.
Whittard Florence Mugs
Red Spot Latte Mug, Teal Spot Latte Mug, and Teal Spot Mug designs available.
Our exclusive range of Florence china mugs features spots and stripes in bold and bright primary colours. Our bright and bold Florence Collection is an all-time favourite, and we've added a whole new selection of dotty handpainted stoneware to the range.
Crafted in stoneware and hand-painted, they are perfect to mix and match, grouping by colour, design or simply randomly for an exciting and colourful collection.
Dishwasher and Microwave safe
Whittard Mosaic Mugs
Mosaic Mug and Mosaic Latte Mug available
Our colourful Mosaic range of handpainted stoneware is the perfect way to add a dash of panache to your kitchen. Match your mug with plates, bowls and three different types of teapot.
Whittard English Tea Inspired Fine Bone China Mugs
Fine tea should always be served in a beautiful mug, and so we have created a fine bone china mugs inspired by our English Tea.
The English rose mug is inspired by english rose tea and has been printed with pretty red roses.
The Mango & Bergamot is inspired by the extravagant mangoes grown in 18th century orangeries. Aristocratic lords and ladies would compete to see who could grow the best exotic fruits
The English Breakfast Mug is inspired by the birds we hear as we sip our English Breakfast.
Each mug has been made and decorated by hand at The Potteries in Stoke-on-Trent with capacitys of 350ml.
Whittard Lucy Fine Bone China Mugs
Our exclusive Lucy fine bone china collection has been designed, made and decorated by hand at The Potteries in Stoke-on-Trent. Featuring a sugar-sweet colour palette and pretty floral patterns.
Available in Beige, Green, Mauve and Yellow
All Lucy Fine Bone China Mugs have a 350ml capacity
Whittard Hand Painted Stoneware Mugs
Whittard famous hand painted stoneware is a staple of every British kitchen to some it's as essential as salt and pepper, butter and milk.
Available in a range of styles and colours including Red Stripe, Cobalt Stripe, Blue Daisy Latte, Red Daisy, Purple Stripe, Teal Multi Stripe, Blue Optic, Multi Optic, Teal Stripe, Black & White Latte, Black & White.
Whittard Protea Mugs
There's an art to creating the perfect infusion  uckily this porcelain mug does it for you. The rounded base allows the water to circulate and the tea to infuse, and the removable stainless steel infuser is ideal for loose leaf tea.
We love the ergonomic handle, designed to fit perfectly in your hand.
Available in  colours Blue, Cream, Mint and Yellow.
Capacity 450ml
Whittard Pao Infuser Mug
In Mandarin, the word Pa; translates as infuse and that's exactly what you get with Whittards ingenious infuser mugs, designed to create the perfect brew, just for you.
Crafted from fine quality high-fired porcelain with a super-sleek finish, each mug comes complete with its very own removable infuser and lid which doubles up both as a coaster and a tray for the filter – not to mention keeping your tea toasty.
Brilliant for brewing away at the office desk, or for keeping on the bedside table for those long lazy mornings.
Available in colours Teal or Purple
Capacity 355ml